What to Expect from Your LLBMTB Membership

Hi!
Thanks for dropping (or is it clicking?) by.
When you join LLBMTB you gain access to a growing collection of bike setup tools, technique lessons and training programs. You can ask questions on the site, and I also encourage you to join our Facebook group, which is a great place to share stoke and help each other get more out of our riding.
This page lists some of the benefits our members enjoy. I'm adding all the time. If you want something specific just email me.
I hope to see you soon,
Lee
KUNG FU MEMBER – MONTHLY
Ride brilliantly, set your bikes up perfectly and train efficiently.
Get your questions answered by professionals.
Enjoy a free month with the code FREETRIAL.
$19/month
KUNG FU MEMBER – YEARLY
Dial in your riding, equipment and fitness.
Experience Flow on every ride. Live the Life you deserve.
Free All Access pass to ridelogic.bike (worth $150)
$199/year
Free Guest Members
can read the free articles on this page.
Kung Fu Skills Members (Both Monthly and Yearly)
have access to all of the LLBMTB content.
Start Here
Impatient? Wanting more goodness more faster? Start with these links:
Quick-start guide
Handlebar width
Rider Area Distance (RAD)
Rider Area Angle in Degrees (RAAD)
Steering/Hands Offset (SHO)
Rider and bike calculator
On-bike check
Bike sizing charts
The Magic Triangle: A simple way to set up your bike
Easy ways to choose your next frame size
RideLogic™ bike setup system: Intro
The RideLogic™ approach is simple, powerful and works for all bikes that are meant to be Ridden with a capital R: BMX, dirt jump, XC, trail, enduro, downhill and even motocross
Become one with your bike: About the RideLogic™ bike setup system
Transcend the conventional wisdom about cockpit setup
Step by step instructions: the easy way and the thorough way
Let's talk handlebars
Historically they were too narrow. Fashionably they're too wide. How to pick your perfect handlebar.
Handlebar width made easy: Dial in your handlebar width with RideLogic™
Calculate your ideal bar width: based on your body, not trends
Fine-tune your handlebar width: narrower is healthier than wider
Adjust your hand width for different situations: your grips are pretty wide
Handlebar setback: the unknown measurement
Setbacks for various handlebars
Handlebar sweep: Small changes can make big improvements
Bar-ins: the new bar ends: you know you love it
Dial in your cockpit for Riding (capital R)
The RideLogic™ approach is based on the relationship between your hands and feet, your grips and pedals.
Rider Area Distance (RAD): the most important measurement
Getting RAD with RipRow: How to use the training tool as a setup tool. It's insanely easy.
How to measure your bike's RAD: All you need is a string and a tape measure.
RideLogic™ on-bike check: you won't believe how easy this is
Rider Area Angle in Degrees (RAAD): tweaking your setup to fit your riding style
How to adjust your cockpit: hint: get a shorter stem ????
Understand stems and bars: how they affect your cockpit
Handlebar <> saddle position: Should your grips be even with, above or below your saddle?
New bike? Make informed decisions.
Stop wasting time and money with the wrong frame and components. Buy the perfect bike and set it up just right for you.
Know your RAD, reach and rise: the three critical shred measurements
Compare frames the smart way: ignore the size charts
Understand stems and bars: how they affect your cockpit
Handlebar <> saddle position: Should your grips be even with, above or below your saddle?
Easy ways to choose your next frame size: All you need is your height or
Pick the perfect MTB frame size for you: A very simple approach (old but interesting)
Pick the perfect frame size: save major disappointment and thousands of dollars (this lesson is old, but it has some good info)
RideLogic™ Rider and Bike Calculator: make your body and bike fit each other perfectly before you buy
SHO : Steering/Hands Offset
How far are your hands in front of or behind your bike's steering axis?
This measurement helps explain why some bikes handle so well — and it helps you make your bike handle well.
Bike sizing charts
Every bike maker publishes height/size charts for their bikes, but a lot of those seem to be based on old logic; the bikes have gotten longer, but people haven't. Our charts use the RideLogic bike setup method. We hope they help you choose bikes that fit you well.
Check out the bike sizing charts >>>
Look at this too:
Easy ways to choose your next frame size
Deviating from RAD
I think a neutral RAD (bike and body matching each other) is ideal for most people in most places. However, bike setup exists on a continuum, and deviating from RAD can have its benefits.
Deviating from RAD
Riding RAD+
Riding RAD-
The Magic Triangle of MTB fit
Here's a simple way to set up your bike. It incorporates seat height, seat tube angle, RAD, RAAD and seat-bar position. Check it out:
The Magic Triangle of MTB fit
Magic Triangle – EZ version – less measuring
Adjusting your Magic Triangle for your proportions and riding style
Other stuff
Not as sexy as jumping, but important.
Calculate your ideal crank length (Zinn method)
Find your ideal crank length (BikeDynamics method)
Position your saddle for comfort and power
Adjust your controls for easy control
Set up your suspension
Introduction and Mental Skills
My Goals for This School
Learn to Learn
6 Ways to Challenge Perceptions and Change Results
Step Up to a Higher Level
Mix and Match Your Skills
Bike and Life Advice from Yoann Barel
Riding positions
Use your hips!
Triangle of Awesome
Off the bike: Master this movement
3 essential positions: off/on the bike
The overall mission
The low "attack" or hinged position
High hinge, low hinge, crazy-low hinge
The extended power position
Don't lean forward or back!
Lock your core
Team CRC-Mavic's riding positions (Sam Hill!)
Fabio Wibmer's Triangle of Awesome
Triangle of Awesome and your heels
Braking
Essential braking
Heavy braking
Advanced: Hop to heavy braking
Pedaling
Pedaling posture
Seated pedaling
Standing pedaling
Sprinting
Pedaling ovals (about oval chainrings)
Essential Cornering
Cornering overview
Cornering step 1: lean the bike
Cornering step 2: load the bike
Cornering step 3: drive your hips
Foot down or feet level?
A tale of two angles
Riding up things
Intro
Pedaling up a hill
Pedaling up a steep slope
Pedaling up a ledge
Dynamic traction for loose climbs
Riding down things
Intro: This is simpler than you think
Riding down a hill
Rolling down a ledge
Flying off a drop (advanced)
Wheelie drop (advanced)
Big drop with a lip (advanced)
Pumping bumps
What is pumping?
Pumping step 1: arms
Pumping step 2: legs
Pumping step 3: arms and legs
Pumping step 4: ellipses of love (advanced)
Out of phase
Pumping corners (advanced)
A corner … is a sideways hole
Pumping berms
Pumping flat turns
Scalloping turns
Slalom drill
Hopping between turns
Light before the corner, heavy in the corner
Riding over things:
kung fu master style
Intro: the ultimate way to learn and ride (public)
Pull-push: simpler and more adaptable than the old school manual
Nose bonk to hop progression
Real bunny hop: smooth, balanced and powerful
> Hopping higher: adding pop to your hops
Pump manual: dead sexy when done right
Pump-manual hop: a big bite of BMX badassery
Kung fu power wheelie: the pro way to get up steep faces
Jumping
Read this before you jump
Essential jumping technique
Step-ups and step-downs
Flying high vs. staying low
When good jumps go bad
Jumping: another perspective
Jumping hips
7 common jumping mistakes
Dangerous jumping advice
Row/Anti-Row
This Grand Unified Theory of Shred integrates bike setup, body position and the row/anti-row cycle to dynamically lock you within your bike for ultimate power and control. Light Hands/Heavy Feet has been a useful model. This is next level.
Introduction
Make your bike match your body
Make your body match your bike
Row and anti-row everywhere
Lock yourself inside your bike
Ellipses of Love
Next-level pumping
At this level we're rowing, anti-rowing, cornering, pumping, hopping and jumping on a perpetual wave of awesomeness.
Ride With Flow (Capital F)
See better to go faster
Don't look. See.
Pick great lines
Match your line and speed to your skills
Find a state of Flow
Hack your flow state
Trigger yourself into peak performance by Dr. Jason Richardson
Switchbacks
What is a switchback?
Why are switchbacks so hard?
Learn these skills before you ride switchbacks
Essential switchback tips
Awesome switchback drills (L1)
Riding down switchbacks
Climbing switchbacks
Cornering 3.0 
Steering through turns
Carving turns
Loading turns
Pumping turns
Weight vs Power
Fore-aft weight distribution
Initial steering angle
Trail braking
Countersteering
Initiating a single turn
Foot out, flat out
Rock gardens
Rock gardens are rad!
Types of rock garden features
Rock gardens use all of your skills
Unique skills for rock gardens
Bike choice/setup for rock gardens
Tips for all rock gardens
Tips for riding down rock gardens
Tips for riding up rock gardens
Riding wet rock gardens
Real-life analyses
Fitness and training
Get full access to on- and off-bike training programs including Pump Up the Base, Prepare to Pin It and F6.
On-bike training
Develop great all-around riding fitness with these scientific, practical programs.
Get the most benefit with the least punishment.
Off-bike training
Simple, proven programs to improve your mobility, stability and strength.
Do them most anywhere with minimal equipment. Shred your bike and give great piggyback rides.
KUNG FU MEMBER – MONTHLY
Ride brilliantly, set your bikes up perfectly and train efficiently.
Get your questions answered by professionals.
Enjoy a free month with the code FREETRIAL.
$19/month
KUNG FU MEMBER – YEARLY
Dial in your riding, equipment and fitness.
Experience Flow on every ride. Live the Life you deserve.
Free All Access pass to ridelogic.bike (worth $150)
$199/year
About the Lee Likes Bikes Online MTB School
Hi. My name is Lee McCormack, and I like bikes.
I've created this online school so I can share my best setup and skills knowledge — the stuff I teach in person — with more people. If you're taking classes with a Lee Likes Bikes coach, this will serve as awesome preparation and a handy reminder. If you're working on your own, you can use this webschool as your own personal self-paced teacher — and you can get feedback from LLB professionals.
This beautiful video from Rocky Mountain Adventure Junkies shows Valmont Bike Park, and it gives a taste of a skills clinic with Lee Likes Bikes founder Lee McCormack.

Join us! Member benefits:
As an LLB Kung Fu Skills Member, you get full access to the LLB Online MTB School. This includes:
All skills lessons. Dial in your core skills then ascend into the heights of shredderdom. More lessons are being added all the time. Want something we don't have? Just ask.
The most dialed cockpit setup method ever devised. Use the RideLogic Bike Setup System to adjust your stem and handlebar dimensions to match your body and riding style. Calculate your ideal frame size and bar/stem setup before you buy.
Access to professionals. When you post comments, images and videos on our pages, you'll get responses directly from Lee McCormack and his professional instructors, as well as our team of expert trainers and doctors. We bring you the best minds.
Facebook group. And as you work through the online lessons, you can post your questions and videos to our Facebook group, and get feedback from a LLB's certified coaches and other motivated riders who are serious about improving their riding skills.
Use any web-enabled device. Learn at your own pace — with help from skilled, experienced communicators and instructors.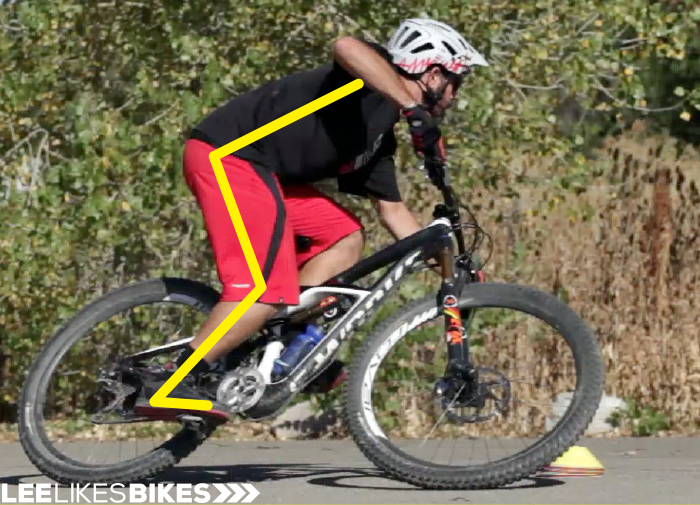 Rail corners like … um … you're on rails.
Happy online MTB students
"This is The Matrix of mountain biking. Truly."
– Andy from California
"I don´t know any other MTB school or teacher who is comparable to you!"
– Lars from Germany
"Lee, I'm a teacher (high school and college), and I actually teach methodology classes to graduate students on how to teach. From a teaching perspective, I love, love, love what you're doing with the virtual coaching!"
– Karl from Massachusetts
"Your new program is great! I've been waiting for something like this: a complete step-by-step guide to shredding, with a good mix of information in text, picture and video format. Especially the videos are really helpful! "
– Jan from Germany
"Lee, I dropped my seat, worked on the stuff you mentioned for about an hour, then set 3 PRs (including two KOMs) on descents on my local trails. Crazy."
– John from California
"Hey Lee, After investing time into mobility, overall strengthening and pedaling form … my Quarq power meter registered 2,432 watts today. The previous high was 1,370 something. Bottom line — the pedaling technique works!"
– Omer from California
"The RideLogic fit system that Lee used on me is great! It helped me maximize power and efficiency for enduro racing. After Lee set up my SB6c and showed me the simple repetitive motion of aggressive descending, I felt a mental switch and my abilities immediately improved.
"I would recommend this fit system to any mountain bike athlete looking for more speed and confidence on the bike. It definitely made me a faster more capable downhill rider."
– Peter Hartwig, pro enduro racer
Goals for this online school
Help you set your bike up for optimal Riding (with a capital R). Stop guessing. Stop wasting time. Stop wasting money. Use our calculators to decide which frame, bar and stem will help you ride the way you want. Buy — and Ride! — with confidence.
Teach you the core skills that underly all great riding. If you plug them into your current style, you'll see huge improvements in control, smoothness and speed.
Build the foundation for more advanced skills. In the LLB Teaching Method we don't teach one set of skills then throw them away when you get more advanced. We start with a universal set of movements. As they become ingrained, you simply execute them with more power and combine them in interesting ways.
Be as simple and efficient as possible, while giving you great information. As believers in the 80/20 principle, we focus on the few essential movement patterns that work everywhere.
Use the power of the Web. While it's hard to beat in-person, one-on-one coaching, this webschool is the next best thing (and maybe better in some ways). The articles, images and videos convey information very effectively — at your own pace, anywhere in the world. We are constantly adding new lessons and improve the old ones, so come back often.
Help you 1:1. When you want help with your riding and setup, we're here for you. You can post questions, comments, photos and videos right in the comment fields on the lesson pages. If you want private help, we can coach you remotely.
Fun ride with 7X XTERRA world champion (and LLB kung fu pupil) Conrad "The Caveman" Stoltz:

About Lee Likes Bikes
Lee Likes Bikes was founded in 2002 by Lee McCormack, then a seasoned rider/racer, infographics artist and interaction designer.
Since then, Lee has written and illustrated eight books about mountain bike technique and training, including the bible of MTB technique, Mastering Mountain Bike Skills. Lee's site, www.leelikesbikes.com, has become a favorite among serious riders.
As the skills development director for the National Interscholastic Cycling Association, Lee created the curriculum and training manual used by high school coaches throughout the United States.
Lee has trained more than 5,000 riders of all levels and styles: beginners to pros, cyclocrossers to downhillers. He is based in Boulder, CO but loves to spread the word wherever he can.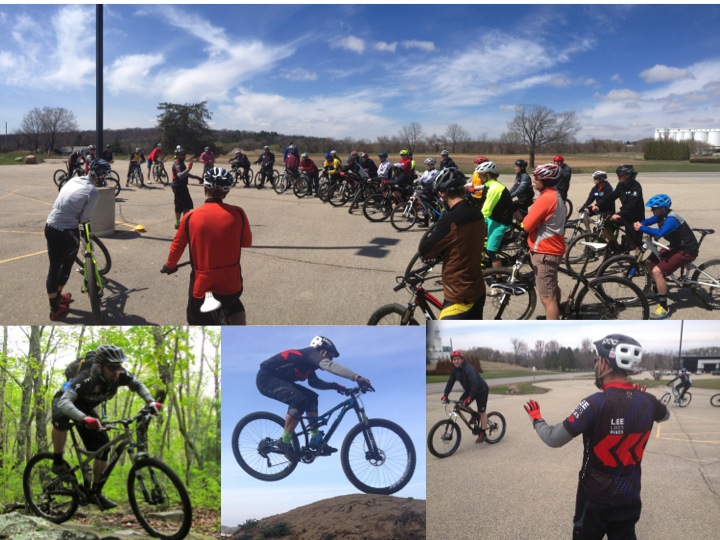 Lee was honored with the 2014 NICA Special Recognition Award.
"Lee and his highly skilled assistants have played a significant role in helping grow interscholastic cycling in the United States.
"Specifically, Lee's invaluable Teaching Mountain Bike Skills manual and his hands-on trainings have equipped over 1,500 coaches nationwide with the necessary skills and teaching styles to teach and mentor adolescents as they learn to ride safely. With over 5,000 active participants in our programs, it is fair to say that Lee's work is paying off in a massive way as more kids are learning to ride with the proper confidence, skills and discipline to remain life-long cyclists.
"As a result of his emphasis on safety and teaching coaches what to look for to identify unsafe riding techniques, we have seen a significant reduction in the number of students crashing on their bikes. It is our honor and pleasure to work with Lee and his growing number of highly dedicated assistants."
Austin McInerny, NICA executive director
About the Lee Likes Bikes Teaching Method
Lee McCormack has been a devoted rider and communicator for more than 25 years. An award-winning writer and artist, as well as a decent racer, Lee has dedicated his professional skills and personal passion to helping cyclists improve their lives by improving their riding.
The Lee Likes Bikes Teaching Method:
Is simple. Rather than spend time teaching you nifty little tricks (ie hopping your rear wheel), we focus on a handful of essential dynamics. These core skills help ride with more confidence and speed in all situations.
Is systematic. Imagine a "skills tree" that contains every conceivable riding skill. We start with the trunk of the tree and work our way up the branches. Rolling down a ledge is low in the tree; jumping into a berm is high in the tree. Whatever you want to do on your bike, we'll get you there: one safe step at a time.
Is scalable. Once you learn the core movement patterns, higher level riding is simply a matter of combining simple movements. Experts ride exactly the same way as beginners — with more power and speed.
Is proven. Lee has personally taught thousands of riders of all levels and styles, including more than 1,000 National Interscholastic Cycling Association coaches who teach more than 5,000 high school MTB racers. Lee's skills and training books have reached more than 100,000 riders worldwide. Top XC, DH, Enduro, BMX and XTERRA racers are faster thanks to Lee.
Is constantly being improved. On the bike, fun happens at the intersection of challenge and skill. We are always seeking that sweet spot in our riding, and we are continually working to become better teachers.
Is for you. Whether you're a first timer, seasoned expert or a professional racer, we'll help you ride with more confidence and speed.
Ride better. Live better!
Some fun action from the January 2015 sessions in Simi Valley, CA. Video by Coach Andy Somerville.

An old promo video from Valmont Bike Park. Lessons learned: 1) don't wear a cotton shirt, 2) keep your glasses on!


Email [email protected] with questions. Have fun out there!
Lee
KUNG FU MEMBER – MONTHLY
Ride brilliantly, set your bikes up perfectly and train efficiently.
Get your questions answered by professionals.
Enjoy a free month with the code FREETRIAL.
$19/month
KUNG FU MEMBER – YEARLY
Dial in your riding, equipment and fitness.
Experience Flow on every ride. Live the Life you deserve.
Free All Access pass to ridelogic.bike (worth $150)
$199/year