RideLogic™ bike selection/setup consultation
Buy a RideLogic Bike Selection or Setup Consultation >>>
Check out this video of James Ontiveros riding the legendary Horsethief Bench in Fruita, CO. He makes it look so easy!
"Fortunately my bike was set up PERFECTLY. I have always struggled with bike fit since I have incredibly long arms. I always seemed to gravitate to bikes that are too small for me considering my height (6'2″), but with the help of Lee and the RideLogic System I was able to finally find the perfect combination for my body dimensions. I have never felt more confident and balanced on the bike! We have truly turned that bike into a trail scalpel. Thank you Lee for all the years of help and guidance!"
– James Ontiveros
"My 0.02 – given how big of an investment a bike is, the money spent for this is trivial. You can fix a lot of things after you buy a bike, but not the frame size. Without this I would be looking at a frame size that was wrong for me. Additionally, Lee gave me specifics on handlebars and stem setup. So I would say that anyone would benefit when looking at a new bike."
– Michael Rudel
"The RideLogic™ fit system that Lee used on me is great! After Lee set up my SB6c and showed me the simple repetitive motion of aggressive descending, I felt a mental switch, and my power and efficiency immediately improved.
"I would recommend this fit system to any mountain bike athlete looking for more speed and confidence on the bike. It definitely made me a faster more capable downhill rider."
– Peter Hartwig, pro enduro racer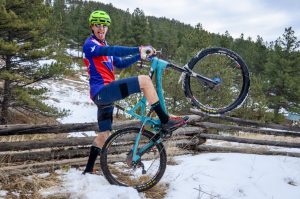 We can help you!
If you're having trouble dialing in your bike, or you want us to help you decide which frame, stem and bars you should buy, we can help you online. This will save you trial and error, not to mention anxiety and wasted money!
1. Tell us about your issue or goal. How tall are you? Do you have special needs or unusual proportions?
2. Tell us about your current bike setup, or what you're considering buying.
3. We'll send you specific recommendations on changing your setup or buying your next bike. We'll help you decide which model and size frame to buy, and we'll tell you what to look for in your stem and bars.
For example:
Pro enduro racer Peter Hartwig needed help dialing in his current bike, "Sabrina" the large Yeti SB5.5c, and he wanted to know how to set up his large SB6c. I (Lee) ran the calculations and gave him two recommendations for each bike: one "enduro" style and one "trail" style. An enduro setup places the bars higher and closer for optimal handling in the gnar. A trail setup puts them a bit lower and farther away for a more balanced feel on normal terrain. Thanks to this, Peter doesn't have to guess: He knows exactly which stem and bars to get, and how many spacers to put below the stem.
Here's the document I sent to him. It shows the kind of info you can expect to receive.
4. We'll also show you the easy on-bike way to make sure your setup is perfect. Our calculations assume average proportions. This on-bike method automatically adjusts for all aspects of your body and bike.
You don't have to be a member. We're here to help everybody.
Buy a RideLogic Bike Selection or Setup Consultation >>>
Lee