Description
"This is really great! The program reads well and makes sense. The sprint training will transfer strength gains made in the gym to the bike, and improving pedaling skills is equally valuable. I think Lee nailed it!"
– Cody Waite, pro Xterra triathlete and endurance coach, www.epcmultisport.com
"There is basically 'free time' to gain all over every trail. And Lee will help you find it. Efficient pedaling is so powerful but not everyone does it. The winter time is perfect to hone this skill for a huge summertime payoff. Thanks Lee!"
– Judy Freeman, professional cross country racer
Lee, I only wish you knew how well your teaching transfers to cyclocross. With no suspension and even less traction, poor bike handling wastes more speed and energy than any amount of fitness can overcome. And then there's the pedaling, you spin to win but the low cadence, high torque efforts are also really important. I can consistently measure the power difference between my old pedal stroke and the one you describe. $15 for Pump Up The Base is an absolute steal.
– Christopher Kelly, leelikesbikes skills client, Pump Up the Baser and podium threat in Class A cyclocross
"I recently got my hands on the latest book from Lee McCormack – PUMP UP THE BASE. While I have an extensive background in BMX and MTB, I still need to stay on my game during the off season. Lee's new book really gets at fundamentals on winter training and focuses on keeping not only your core dialed, but your legs strong. He covers every essential detail on what you need to do, how to do it and most of all why your doing it. Way to go Lee, I am always learning every time I apply your books to my training."
– Ian "WingNutt" Cook, mybikestand.com
Thanks Lee. The book is excellent, well done. I'd love to see more of this kind of thing. I'm still really happy with my custom Name of Coach plan so rather than follow yours as is I've used it as a sort of requirements specification. It's lead to a long conversation with my coach about how my plan needs to change to meet the demands of the sport.
– Chris K, Cat 1 racer
Lee, I just completed the first workout in week 7 of Pump Up the Base. Up to this point, I had been using the trainer, but since the weather has broken down here in The Springs, I decided to head out and hit the road with the Enduro for today's training ride.
I used Strava to chart my progress today. Toward the end of the ride, I came to one segment that's .2 miles (almost quarter mile) long with a 1.8 percent grade. I beat my previous best — set last May — by 20 seconds! (from 1:26 to 1:06) The really cool thing was I wasn't trying to hammer the segment, huffing and puffing and standing to squeeze out extra power. I just stayed in the sweet zone and worked the power in my legs. (Also stayed in the big ring. Normally, I've got it in the granny ring). Anyway, today has to be the first time I've been ranked in the top half of an uphill segment on Strava. I'm usually in the bottom 25-30 percent.
Just thought you'd enjoy a "success story" around Pump Up the Base. The workouts, along with the tips on pedaling technique, have obviously really helped. I'm a little more than halfway done — looking forward to the next five and a half weeks.
– Jim
Particulars
Ebook: $15
Print book: $22 available from Amazon
Size: 8.5 x 11 inches
58 pages with diagrams and color photos
v2 Update: Detailed pages tell you exactly what to do minute by minute in each workout. These pages are formatted for easy viewing on mobile devices.
Pump Up the Base is designed to build base fitness in the off season. When you're finished with Pump Up the Base, you'll be ready for an in-season program like Prepare to Pin It.
Check out questions and answers in the Pump Up the Base Lee Likes Bikes blog category.
Samples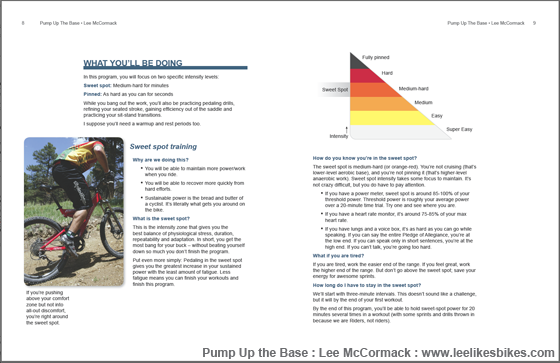 What you'll be doing. Sweet spot intervals and sprints, that's what.

How to pedal. This will change your riding life.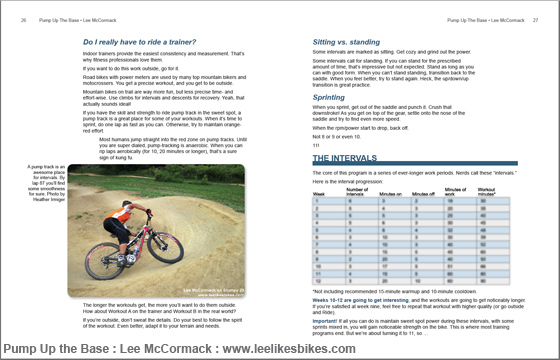 This program is designed for indoor trainers, but you can rock the intervals outside. If you can do some of them on a pump track, that is extra rad.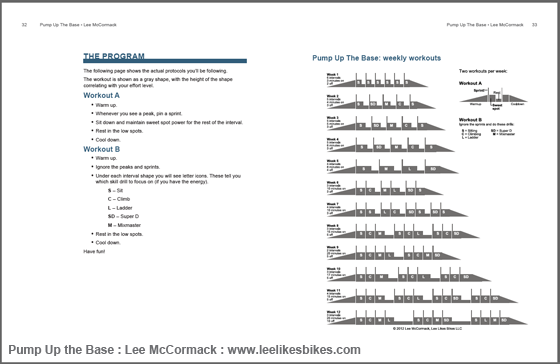 The program uses a simple, easy-to-follow graphical style.
Table of contents
WHY ARE WE DOING THIS?
THE MISSION
WHAT YOU'LL BE DOING
• Sweet spot training
• Sprinting – fully pinned
• Warmup
• Rest
• Cooldown
HOW DOES THIS FIT INTO THE REST OF MY PROGRAM?
STUFF YOU NEED
• Must have
• Nice to have
• Let's talk pedals
HOW TO PEDAL
• Our goal
• Pay attention to posture
• Basic seated pedaling
• Power and recovery
• Forward-backward
• Pedaling out of the saddle
• Practice perfectly
• Expand your powerband
HOW TO FOLLOW THIS PROGRAM
• Discipline (or not)
• Consistency!
• Stay in the sweet spot
• Do I really have to ride a trainer?
• Sitting vs. standing
• Sprinting
THE INTERVALS
MAKE IT REAL WITH FOCUSED DRILLS
• Sitting
• Climbing
• Ladder
• Super D
• Mixmaster
TWO WORKOUTS IN ONE
• Workout A
• Workout B
THE PROGRAM
• Workout A
• Workout B
• Pump Up The Base: weekly workouts
Intro text from the book
Why are we doing this?
Mountain biking is awesome, and the better you are, the better it gets. We basically have two ways to improve our performance (and fun) on the bike:
1) Improved skills. See the books Mastering Mountain Bike Skills, Teaching Mountain Bike Skills, Pro BMX Skills and Welcome to Pump Track Nation or take a clinic with me.
2) Improved fitness. Mountain bike fitness encompasses lots of different areas, including:
• Stability
• Agility
• Strength
• Power (these top four items should be developed off the bike)
• Long-term capacity and endurance (how fast can you ride for an hour?)
• Short-term capacity and endurance (how fast can you ride for a few minutes?)
• Fully pinned power (how fast can you ride for a few seconds?)
While you should work on your riding skills and off-bike physical abilities, pedaling is our bread and butter. It's how we get around, and the cardiovascular benefits translate to other aspects of our riding game (pumping terrain for example).
This program focuses on pedaling power and overall workload tolerance. Specifically, it will help you sustain higher power for longer periods, and it will teach you to reach higher highs.
What's different about this approach?
This program aims to help you develop cycling power AND skills in a way that most programs do not address. You are not just a hamster in a wheel. You are a Rider — an athlete — and I want every minute you spend on the trainer to help you rip.
The Mission
Pump Up the Base is a simple, effective program for winter ("off season") bike training.
Winter and early spring are a perfect time to rock this adventure. Ideally, you'll Pump Up the Base two days per week, work off-bike stability/agility/strength/power two days a week and otherwise do fun stuff and recover. When you finish this program you'll be ready to wax your buddies or start higher-intensity interval work and crush the races. Either way, you'll be stronger and faster than before.
More specifically, when you Pump Up the Base you will:
• Build aerobic capacity, neuromuscular power and neuromuscular coordination
• Be able to ride harder, longer
• Learn to pedal more smoothly and powerfully both in and out of the saddle
• Increase your top cadence
• Increase your peak power
• Broaden your powerband
• Stress your body enough to make you improve, but not beat you down
• Use your time very efficiently
• Not go as insane this winter
These workouts are fun and effective any time of year, but winter is a great time to build your aerobic engine and develop new pedaling skills.
About the author
Hi I'm Lee, and I like bikes. Some things I've done:
• Wrote the books Mastering Mountain Bike Skills, Teaching Mountain Bike Skills, Pro BMX Skills and Welcome to Pump Track Nation.
• As the skills development director for NICA, the national high school mountain bike league, I create the curriculum and teach it to riders, coaches and the coaches who teach coaches how to teach riders.
• I work with riders of all style and levels, from beginners to world champions.
• In a previous career, I was part of the team that won the 1997 Pulitzer Prize for Public Service. I honed my infographics skills at a daily newspaper.
• Between intervals and coaching sessions, I design technical and business systems. It's all about clarity, man.