Description
This gift certificate can be redeemed for three hours of private or small-group MTB instruction with Lee McCormack. When you buy this item, you'll be given a link to download a printable gift certificate. To set up the class, simply email Lee. 
Lee McCormack is a world renowned mountain bike skills author and instructor, as well as inventor of the revolutionary RipRow™ training device. Lee has taught more than 6,000 riders of all levels and styles, including hundreds of MTB skills coaches. He is the teacher of the teachers: the Obi Wan Kenobi of MTB.
Three hours with Lee will help every rider — beginner to pro — ride with more safety, confidence, efficiency, speed and FUN. This is enough time to establish a solid skills base.
Unless we make other arrangements, class will be held at Valmont Bike Park in Boulder, CO. It's the perfect place to master the essential skills that underlie all great riding.
We'll begin class with some RipRow™ work, which will program the prime movements into your muscle memory.
RipRow™ is a critical part of pro enduro racer Curtis Keene's training program. 
When you're ripping and rowing, we'll dial in your skills on Valmont's pump tracks and trails. Since it's a private class, we can focus on what you need, and we can work at your pace.
Lee rails Valmont's upper pump track.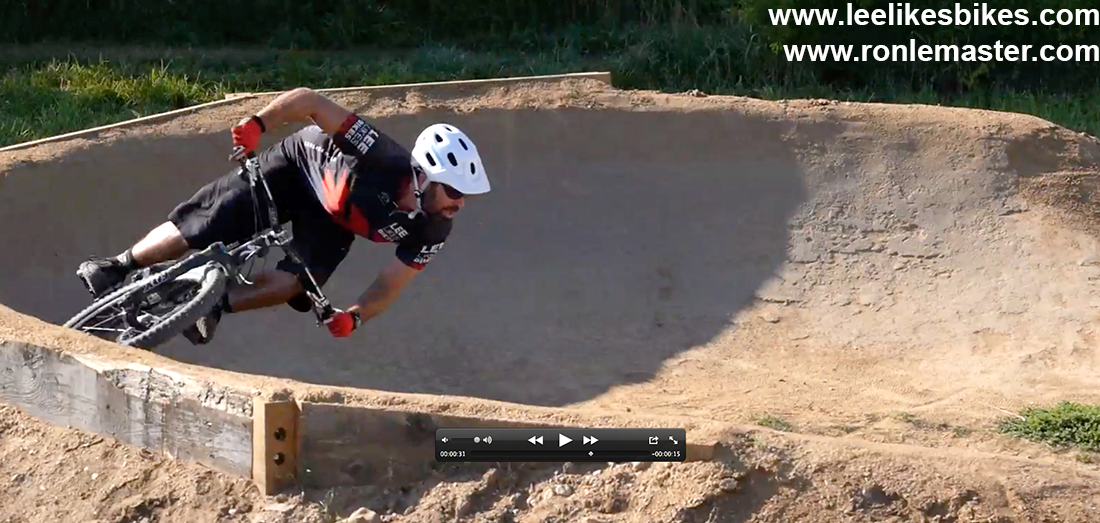 This fee covers one to six riders. Additional riders at additional cost.
About Lee
Lee McCormack, the Lee in Lee Likes Bikes, is a husband and dad in Boulder, CO. He has been a stoked rider and communicator for more than 25 years.
Growing up, Lee was a fat kid in a Weight Watchers family. He was told, over and over, that he was genetically a bad athlete, and that he should focus on other things. Well …
At age 19 he saw mountain bikes and said, "Wow, with 18 gears I'll bet I can ride up anything!" We all know how tough riding is when you're in terrible shape, but it was fun, and it just made Lee feel good. And proud.
Within a couple years, Lee knocked his ride to school down from 47 minutes to 19 minutes, and his body started to change. As the fat melted off and muscles began to show, something even more powerful happened: Some powerful, hidden part of his soul came out. Lee had more confidence. More swagger. More stoke.
And so he became a mountain biker.
At the same time, he began honing his professional skills. First in newspapers, then in software and the Web. Some of Lee's accolades:
• Editorial art director at a mid-sized daily newspaper group.
• Award winning infographics artist, back when newspapers were a big deal.
• Member of the team that won the 1997 Pulitzer Prize for public service.
• Designed the search experience for the then-biggest Web search engine in the world.
• Sole surviving information architect/interaction designer at a big web company. Lee always worked hard, and he used to ride street motos with the CEO —always just behind the CEO!
• Decent all-around rider. Lee loves all kinds of riding, but he had the most success in gravity events. A proud member of the 2004 Worlds DH team.
As Lee enjoyed success on the bike and at work, he felt an ever-growing sense of unease. Like he was meant for something different, something special: something that would combine his riding and communication skills.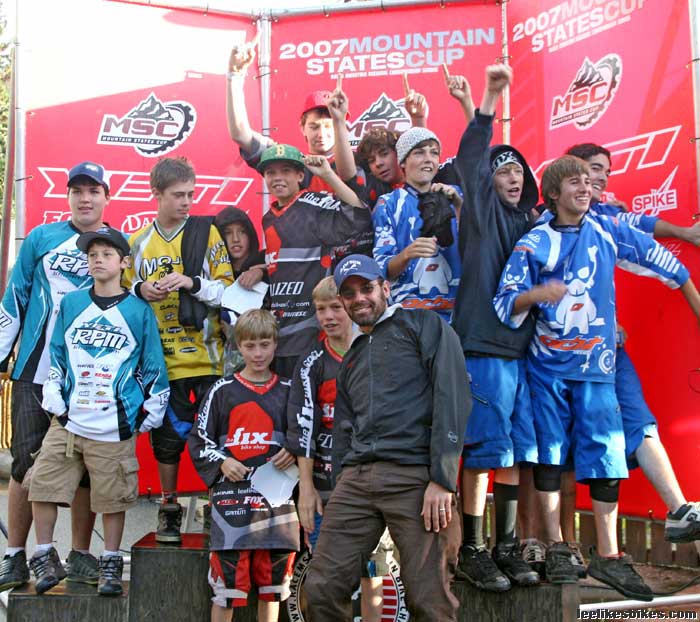 The Fix Junior Team, your 2007 Mountain States Cup champions. That's Lee beaming in the foreground.
Finally, about 10 years ago, Lee was in the Palo Alto Theater with a bunch of Silicon Valley millionaires, watching the movie Whale Rider. This movie is all about fate. In it, a Maori girl is destined to become the king of her tribe—which is not an easy thing! As the story unfolded, Lee started to cry. Was he honoring his fate? No, not yet. By the end of the movie, Lee was bawling uncontrollably, and that was it. He went to work and quit.
Going from six figures to zero figures overnight is pretty stressful. As fate would have it, Lee's old riding buddy Brian Lopes called to say hi. Lee said he wanted to write the definitive how-to book, and Brian said, Sure, I'll do that with you. And the first Mastering Mountain Bike Skills was born.
After MMBS came out, Lee decided mountain biking deserves a curriculum like skiing and other "real" sports. Using all of his riding, communication and design skills, he began to design a teaching method. And he began to teach it.
Scroll ahead. Lee has written for numerous magazines and published eight more books, and he has taught thousands of beginners and pros; men and women; kids and retirees; XCers, DHer, BMXer and roadies. Pretty much anyone who wants to Ride and Live better.
As skills director for the National Interscholastic Cycling Association (NICA), Lee wrote the training manual, created the curriculum and trains high school coaches all over the U.S.
Lee loves to ride, but his true passion—and purpose—is helping other people ride. Teaching is the fullest expression of his physical, mental and emotional abilities. It's what he's made to do. Every time he runs a class, he's as nervous—and stoked!—as the first time.