You are here: Home > Members > Samples >
Cockpit setup: the old way
In the LLB kung fu school of mountain bike riding, we're most concerned with the setup of your cockpit:
the width of your handlebars and
the position of your handlebar (as determined by the length and rise of your stem).
Handlebar width and position have historically been determined by three forces. These forces have been:
1. Fashion
What are the pros riding?  What's available on the market? What's "cool?"
Bike product managers spec handlebars and stems that 1) will help sell bikes, and 2) they can get in large numbers and low prices. That's their job.
When I started riding in the late '80s, most mountain bike handlebars were probably too narrow and far away for effective riding. In the early '90s we were cutting our bars even narrower — as the magazines suggested — to more closely match our road bike bars. Dude, we thought we were so cool with our 500mm bars and 150mm negative rise stems. In day glow pink, of course!
In more than 25 years of mountain biking, I've seen popular handlebars grow from 500mm to 800mm and now to 820mm wide. I think we started too narrow, and now we've gotten too wide for many riders. At least stems are getting shorter.
While working closely with thousands of riders of all genders, styles and levels, and I've seen some crazy handlebars: 6'2″ dudes riding 700mm bars because that's what their 5'8″ XC idols ride; 5'0″ women riding 800mm bars because that's what the Bro at the shop sold them, and so on.
Does our anatomy change with bike industry trends? No!
My first "real" mountain bike was a 1989 Diamondback. By 1990 it was day-glow pink. 
2. Type of bike (and rider)
Are you a Lycra-wearing dirt roadie, or are you a baggy-wearing DH bro?
In general, the smoother a bike's intended riding style (and the riders' legs), the narrower the bars and the longer the stem. The rougher a bike's intended riding style, the wider the bars and the shorter the stem.
Also: For every inch you lift your truck, add one inch to your handlebars.
No one targets bike models and sub-models — niches and sub-niches — more precisely than Specialized. When you ride a Specialized bike, it feels exactly the way you expect it to. Here are some of their models, riding styles, bar widths and approximate stem lengths:
| | | | |
| --- | --- | --- | --- |
| Bike model | Riding style | Handlebar length | Stem length |
| Specialized Epic and Stumpjumper HT | XC race | 720mm | 90mm |
| Specialized Camber and Stumpjumper FSR | Trail | 750mm | 60mm |
| Specialized Enduro and Demo | Enduro/downhill | 780mm | 40mm |
These style/handlebar/stem relationships make sense for new bikes, but they don't help regular riders set their bikes up for 1) their bodies and 2) their riding styles.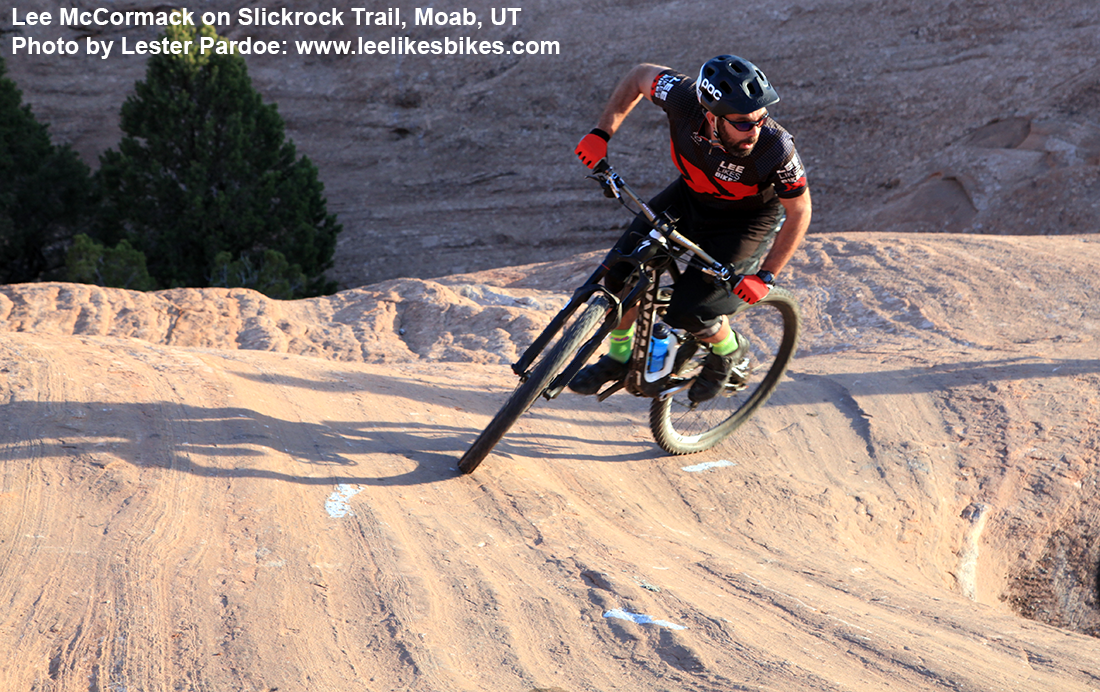 My S-Works Enduro 29 is set up for shredding: both down and up. The perfect cockpit forces no compromise.  
3. Tradition
If mountain bikes evolved from motocross, we would have started with wide bars and very short stems. But we evolved from road bikes, and we're still overcoming some traditional thoughts about bike setup.
Can we please throw the following notions away?
Cross country requires narrow bars and downhill requires long bars. No! Little people need short bars, and big people need long bars. You can make small tweaks based on riding style, but your sweet-spot handlebar width is a small range — and it should be determined by your body.
You need a long, low stem to climb well. That's some old roadie wisdom right there. If you're climbing a smooth hill at moderate pedal tension, a long stem feels neutral and comfortable (like a road bike). But any time the climb gets technical, or you need peak torque, a too-long stem actually hurts you by disrupting the chain between your hands and feet.
In the RideLogic bike setup system, handlebars are positioned relative to the bottom bracket, at a distance determined by your body. The more important handling is, the shorter your stem.
Make sense? If not, it will soon.
Calculate your ideal handlebar width ❯❯❯
Dial in your bike and ride better than ever!
Learn online at your own pace—with professional help. Just $19/month or $199/year. JOIN US! ❯❯❯