About the Lee Likes Bikes online MTB school
Hi. My name is Lee McCormack, and I like bikes.
I've created this online school so I can share my best setup and skills knowledge — the stuff I teach in person — with more people. If you're taking classes with a Lee Likes Bikes coach, this will serve as awesome preparation and a handy reminder. If you're working on your own, you can use this webschool as your own personal self-paced teacher — and you can get feedback from LLB professionals.
This beautiful video from Rocky Mountain Adventure Junkies shows Valmont Bike Park, and it gives a taste of a skills clinic with Lee Likes Bikes founder Lee McCormack.

Join us! Member benefits:
As an LLB Kung Fu Skills Member, you get full access to the LLB Online MTB School. This includes:
All skills lessons. Dial in your core skills then ascend into the heights of shredderdom. More lessons are being added all the time. Want something we don't have? Just ask. Learn more about LLB skills lessons.
The most dialed cockpit setup method ever devised. Use the RideLogic Bike Setup System to adjust your stem and handlebar dimensions to match your body and riding style. Calculate your ideal frame size and bar/stem setup before you buy. Learn more about the RideLogic Bike Setup System.
Access to professionals. When you post comments, images and videos on our pages, you'll get responses directly from Lee McCormack and his professional instructors, as well as our team of expert trainers and doctors. We bring you the best minds.
Private Facebook group. And as you work through the online lessons, you can post your questions and videos to our private Facebook group, and get feedback from a LLB's certified coaches and other motivated riders who are serious about improving their riding skills.
Discounts on in-person clinics and group rides. Active members get 20 percent off any in-person lesson or group ride. Annual members are welcome to attend group rides free of charge.
Use any web-enabled device. Learn at your own pace — with help from skilled, experienced communicators and instructors.
Dial in your bike and ride better than ever!
Learn online at your own pace—with professional help. Just $19/month or $199/year. JOIN US! ❯❯❯ 
Cancel any time. If you have questions or concerns, simply email [email protected].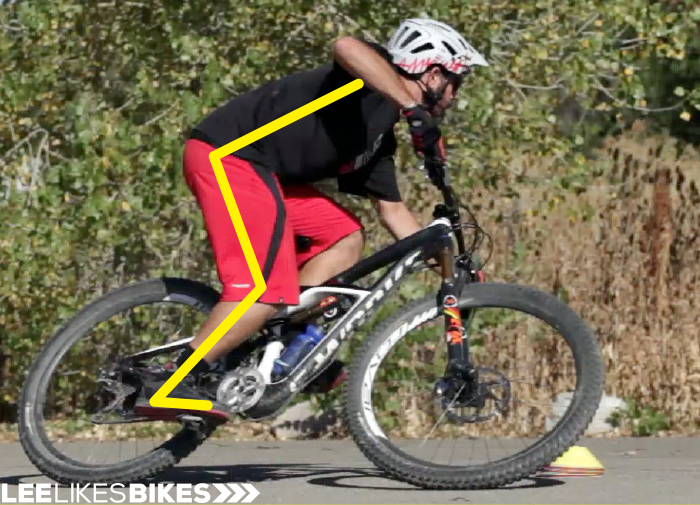 Rail corners like … um … you're on rails.
Happy online MTB students
"This is The Matrix of mountain biking. Truly."
– Andy from California
"I don´t know any other MTB school or teacher who is comparable to you!"
– Lars from Germany
"Lee, I'm a teacher (high school and college), and I actually teach methodology classes to graduate students on how to teach. From a teaching perspective, I love, love, love what you're doing with the virtual coaching!"
– Karl from Massachusetts
"Your new program is great! I've been waiting for something like this: a complete step-by-step guide to shredding, with a good mix of information in text, picture and video format. Especially the videos are really helpful! "
– Jan from Germany
"Lee, I dropped my seat, worked on the stuff you mentioned for about an hour, then set 3 PRs (including two KOMs) on descents on my local trails. Crazy."
– John from California
"Hey Lee, After investing time into mobility, overall strengthening and pedaling form … my Quarq power meter registered 2,432 watts today. The previous high was 1,370 something. Bottom line — the pedaling technique works!"
– Omer from California
"The RideLogic fit system that Lee used on me is great! It helped me maximize power and efficiency for enduro racing. After Lee set up my SB6c and showed me the simple repetitive motion of aggressive descending, I felt a mental switch and my abilities immediately improved.
"I would recommend this fit system to any mountain bike athlete looking for more speed and confidence on the bike. It definitely made me a faster more capable downhill rider."
– Peter Hartwig, pro enduro racer
Dial in your bike and ride better than ever!
Learn online at your own pace—with professional help. Just $19/month or $199/year. JOIN US! ❯❯❯ 
Goals for this online school
Help you set your bike up for optimal Riding (with a capital R). Stop guessing. Stop wasting time. Stop wasting money. Use our calculators to decide which frame, bar and stem will help you ride the way you want. Buy — and Ride! — with confidence. Learn more about the RideLogic bike setup method.
Teach you the core skills that underly all great riding. If you plug them into your current style, you'll see huge improvements in control, smoothness and speed. Learn more about LLB online skills lessons.
Build the foundation for more advanced skills. In the LLB Teaching Method we don't teach one set of skills then throw them away when you get more advanced. We start with a universal set of movements. As they become ingrained, you simply execute them with more power and combine them in interesting ways.
Be as simple and efficient as possible, while giving you great information. As believers in the 80/20 principle, we focus on the few essential movement patterns that work everywhere.
Use the power of the Web. While it's hard to beat in-person, one-on-one coaching, this webschool is the next best thing (and maybe better in some ways). The articles, images and videos convey information very effectively — at your own pace, anywhere in the world. We are constantly adding new lessons and improve the old ones, so come back often.
Help you 1:1. When you want help with your riding and setup, we're here for you. You can post questions, comments, photos and videos right in the comment fields on the lesson pages. If you want private help, we can coach you remotely.
Fun ride with 7X XTERRA world champion (and LLB kung fu pupil) Conrad "The Caveman" Stoltz:

About Lee Likes Bikes
Lee Likes Bikes was founded in 2002 by Lee McCormack, then a seasoned rider/racer, infographics artist and interaction designer.
Since then, Lee has written and illustrated eight books about mountain bike technique and training, including the bible of MTB technique, Mastering Mountain Bike Skills. Lee's site, www.leelikesbikes.com, has become a favorite among serious riders.
As the skills development director for the National Interscholastic Cycling Association, Lee created the curriculum and training manual used by high school coaches throughout the United States.
Lee has trained more than 5,000 riders of all levels and styles: beginners to pros, cyclocrossers to downhillers. He is based in Boulder, CO but loves to spread the word wherever he can.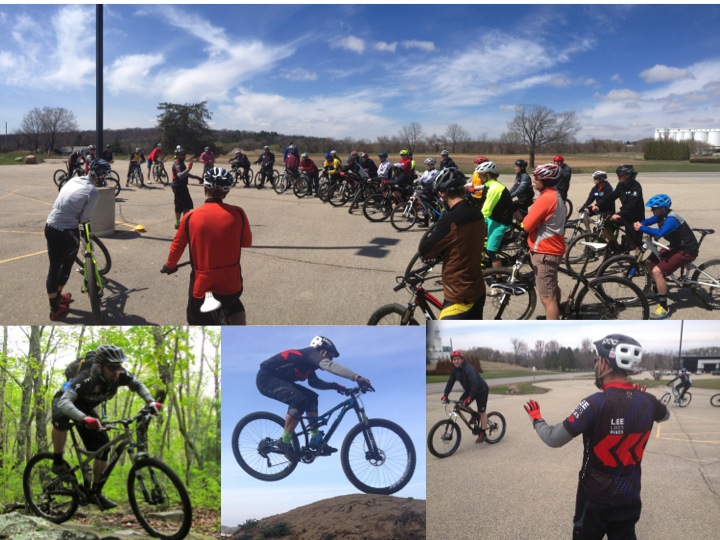 Lee was honored with the 2014 NICA Special Recognition Award.
"Lee and his highly skilled assistants have played a significant role in helping grow interscholastic cycling in the United States.
"Specifically, Lee's invaluable Teaching Mountain Bike Skills manual and his hands-on trainings have equipped over 1,500 coaches nationwide with the necessary skills and teaching styles to teach and mentor adolescents as they learn to ride safely. With over 5,000 active participants in our programs, it is fair to say that Lee's work is paying off in a massive way as more kids are learning to ride with the proper confidence, skills and discipline to remain life-long cyclists.
"As a result of his emphasis on safety and teaching coaches what to look for to identify unsafe riding techniques, we have seen a significant reduction in the number of students crashing on their bikes. It is our honor and pleasure to work with Lee and his growing number of highly dedicated assistants."
Austin McInerny, NICA executive director
Dial in your bike and ride better than ever!
Learn online at your own pace—with professional help. Just $19/month or $199/year. JOIN US! ❯❯❯ 
About the Lee Likes Bikes Teaching Method
Lee McCormack has been a devoted rider and communicator for more than 25 years. An award-winning writer and artist, as well as a decent racer, Lee has dedicated his professional skills and personal passion to helping cyclists improve their lives by improving their riding.
The Lee Likes Bikes Teaching Method:
Is simple. Rather than spend time teaching you nifty little tricks (ie hopping your rear wheel), we focus on a handful of essential dynamics. These core skills help ride with more confidence and speed in all situations.
Is systematic. Imagine a "skills tree" that contains every conceivable riding skill. We start with the trunk of the tree and work our way up the branches. Rolling down a ledge is low in the tree; jumping into a berm is high in the tree. Whatever you want to do on your bike, we'll get you there: one safe step at a time.
Is scalable. Once you learn the core movement patterns, higher level riding is simply a matter of combining simple movements. Experts ride exactly the same way as beginners — with more power and speed.
Is proven. Lee has personally taught thousands of riders of all levels and styles, including more than 1,000 National Interscholastic Cycling Association coaches who teach more than 5,000 high school MTB racers. Lee's skills and training books have reached more than 100,000 riders worldwide. Top XC, DH, Enduro, BMX and XTERRA racers are faster thanks to Lee.
Is constantly being improved. On the bike, fun happens at the intersection of challenge and skill. We are always seeking that sweet spot in our riding, and we are continually working to become better teachers.
Is for you. Whether you're a first timer, seasoned expert or a professional racer, we'll help you ride with more confidence and speed.
Ride better. Live better!
Some fun action from the January 2015 sessions in Simi Valley, CA. Video by Coach Andy Somerville.

An old promo video from Valmont Bike Park. Lessons learned: 1) don't wear a cotton shirt, 2) keep your glasses on!

Dial in your bike and ride better than ever!
Learn online at your own pace—with professional help. Just $19/month or $199/year. JOIN US! ❯❯❯ 
Email [email protected] with questions. Have fun!
Lee