Ride and live more joyfully
Welcome!
My name is Lee McCormack. I'm the Lee in Lee Likes Bikes. I've been riding mountain bikes for 34 years and teaching for 21 years. Before that I enjoyed successful careers in the "real world" that prepared me for this work. I've personally taught more than 11,000 riders of all styles and levels, and I've trained 1,500 volunteer youth coaches. My 11 MTB books, thousands of articles and millions of video views have improved lives all over the world. Oh, and I earned a national championship for downhill racing.
I know the power of the bike to add purpose, growth, and fun to riders' lives. As much as you love riding now, just wait! No matter what you seek, I have a pathway for you. I'll open the door to a world of peace, flow, fellowship, and pure joy on your bike. Your riding will become smoother, faster, and safer. No need to choose one or two of those.
May I present the Lee Likes Bikes MTB School: your complete source for learning, inspiration, and community.
When you join us, you get full access to the only complete resource for improving your riding and more.
Memberships include:
Easy-to-learn riding skills for all riders – beginner to pro

Logical bike choice, fit, and setup

Practical ways to improve your fitness on and off the bike

Universally healthy movement and postural skills

Direct access to the world's most effective and proven mountain bike skills coach (me)

Mental and emotional skills that dramatically improve your riding and life
My mission is to help you live your best life using the bike as a vehicle. 
Learn more: What is RideLogic? >>>
Sign up now with two options for membership.
Save 13% with Annual Subscription
The internet is a fantastic place to learn and build community, but nothing matches in-person experiences with professional coaches and fun people.
We offer a wide range of live classes across the U.S.: level 1 coed and women only; level 2; full-day; multi-day camps; gravel classes; private and semi-private sessions.
Lee is also spreading the message of the Joyride in public MTB Talks.
Yes, you can learn to ride better via Zoom. As a matter of fact, it's incredibly effective — and you can do it anywhere in the world. How it works:
You go to a local bike park, pump track, trail, park, or parking lot. If you want RipRow coaching, you can do that in your kitchen. Set your phone on a tripod, put in wireless earbuds, and we rock and roll.
We coach you as if we're standing right there. We work with riders all over the world this way, with huge success. 
Sessions are recorded for you to review after.
This is not the old-fashioned road-based bike fit that only works when you're pedaling in a straight line.
RideLogic bike fits optimize your power and control in dynamic (aka fun) moments. Your bike becomes part of you — and you both slip into Flow.
Looking for a new bike? Optimizing your current bike? We'll help you dial in the perfect bike and set it up for your body and goals.
RipRow Integrative Trainer
"The best thing to happen to mountain bike-specific training, perhaps ever."
– Outside Magazine
RipRow is the A1 most effective way to build mobility, strength, endurance and skills for dynamic riding. Nothing comes close, not even a pump track.
Plus it's the perfect full-body integrated workout for everyone. My partner E, an ultra runner and bodyworker, loves it! And when she gets on a bike, her skills are perfect.
What is RideLogic?
I created the RideLogic bike fit and skills system to help you live your best life through mountain biking. 
This system comes from my 34 years as a rider/racer and 21 years as a professional skills coach. It covers everything you need:
Riding skills boiled down to simple fundamentals and movements. You won't believe how easy riding can be. 

Bike selection, fitting, and setup based on biomechanics and inarguable riding dynamics. 

Mental, emotional, and spiritual habits. You're only as effective on a mountain bike as you are as a human. We don't skip the human part. 

Mobility, strength, and fitness. Our approach is simple and actually doable by real people. 

Choosing trails, interpreting terrain, and finding Flow.

Proven training plans for optimal fitness, as well as access to full-time personalized training with a professional coach. 

Creating true and lasting joy in your life, using your bike as the vehicle.

Customized user paths to navigate the learning you seek.
Demoing emphatic riding in a full-day class. Every student nailed this line.
I teach the entire human. You're more than a bundle of muscle memory. You're a human being with thoughts, emotions, and past experiences. I understand the best way to help you ride (and live) better is to train the complete you.
RideLogic is simple. Any coach who gives you 76 steps for jumping doesn't fully understand jumping or teaching. Rather than forcing you to ride down the trail with a decision tree of complications and critical timing, I make it simple to get out of your head and into your body. This is the most direct path to experiencing Flow. I base every riding skill on simple fundamental movement patterns. This makes everything easy to learn and infinitely improve over time.
RideLogic is coherent. I don't believe in silos. Everything I teach makes sense as a whole. I teach universal human movement patterns that you refine every day. Then I teach you how to use those same movements on your bike. I'll show you how to set your bike up to fit your body. The mental and emotional skills I teach serve you both on the bike and off.
RideLogic is scalable. Every other approach to riding teaches "beginner, intermediate and advanced" skills. Each level is limiting, and to progress from one to the next requires unlearning habits you just fought to learn. This leads riders from one plateau to another. How terribly confusing, frustrating, and potentially dangerous. I don't believe there are levels to techniques. There are simply core fundamentals. The more refined a rider's fundamentals, the faster, smoother, and safer they can ride more challenging terrain.
Once basic cornering makes sense, we apply the same notions to shredding berms:
RideLogic is measurable. Every detail of the RideLogic bike selection and setup method is backed by biomechanics and math. Everything we do when riding is boiled down to simple movements that are easily measured and assessed. When it comes time for a go/no-go decision on whether to ride off a 20-inch ledge, the decision is clear and simple. Full yes or full no. Say goodbye to the days of maybes and hoping for the best. Your body and spirit are too precious to roll the dice with.
Ridelogic is logically proven. There are a lot of voices in our sport — all telling you their complicated "method" is right and all the others are wrong. Convoluted or dogmatic explanations can be overcompensation for a lack of true understanding. Some of these people may ride at a high level, but they lack the awareness and ability to effectively teach skills. We've run our ideas by every physicist, physician, engineer, psychologist, physical therapist, clergyperson, mechanic, and athlete we can find, and everyone agrees: RideLogic simply makes sense.
RideLogic is built by a professional coach with a background in information design. Before I committed to this mission 21 years ago, I enjoyed two very successful careers that led to a Pulitzer Prize for me and millions of dollars for my clients. My entire career has been about making complicated things simple in writing, infographics, software design, video and business — and that mindset created RideLogic.
To air is human, to land safely is divine. Supervising some smooth flight:
RideLogic is the industry standard. I founded Lee Likes Bikes in 2002. In 2005 I wrote Mastering Mountain Bike Skills. Now in its third edition with hundreds of thousands of copies sold worldwide, it's the definitive book on the subject. Over the past two decades, my ever-improving curriculum has served as the industry standard, being taught to tens of thousands of riders and thousands of coaches.
RideLogic lives and breathes. I continue teaching, learning, and improving. Anyone who's codified their system and held it inert has closed their minds to a more complete understanding of the sport. Not me! I follow the scientific method around here. I test hypotheses all the time, and I constantly fold new learnings into what I do. You'll notice we use the terms "teach-learn" and "learn-teach." When minds are open, teaching and learning always happen together.
We are improving mountain bike culture. There are many wonderful things about the mountain bike community. We love our people! But there's also a toxic, exclusive bro thing going on out there. Turned off by that? So am I. Let's change it together. In our classes, our media, this site, and on the trail we are creating a loving, supportive environment for everyone who wants to find joy on a bike.
Everything I teach makes you a stronger, more capable, healthier, and happier person.
Welcome!
I am so committed to great riding, I invented the RipRow to teach perfect muscle memory. After some RipRow instruction, which is available in most classes with Lee, students get very good at riding — very quickly:
The coaches at Lee likes bikes are exceptional! We recently had some coaching sessions with Andy Somerville in the St George area. Andy is awesome and his great in depth knowledge of the bike body relationship took us up a notch! Can't wait to ride with him again!
Lee is an amazing instructor. He is a true subject matter expert in the world of MTB. His teaching style promotes fun, safety, and development of core skills. I can't wait for my next lesson!
Lee's vision manages to uncomplicate mountain biking. I have been using the one UK based coach Alex Roberton who has helped my riding develop, making it smoother, allowing me and the bike to map to the terrain rather than being pushed around by the ground, and now I am riding smoother with more flow and confidence.
Mountain biking lessons with Lee are one of a kind. His vast knowledge and passion for mountain biking will have you leaving the lesson loving the sport even more. He is an amazing and one of a kind teacher. Stop thinking and just book your lesson with Lee. You will not regret it!
I first got hooked on LeeLikesBikes methods from the Joy of Bike videos on YouTube. A lot of the stuff Lee was saying made sense and helped me on the trail. The biggest impact that sticks out for me was Lee talking about walking into a party hunched up with poor posture versus chest out and confident. I still find myself picturing when I'm trying to remember to keep a good posture on a ride. This summer I was fortunate that Patrick Carey, a LeeLikesBikes/RideLogic coach, did a clinic in my town. My wife and I were able to attend. We both took a lot out of the clinic, in spite of being in very different places in terms of riding ability. Having someone spot and correct what you're doing wrong in real time definitely fast tracks your progress.
When I purchase my first MTB I also read a book called Mastering Mountain Biking. Turns out the author happened to be in Boulder Colorado, so I reached out and set up a lesson. It was that foundation that has provided me the ability to safely ride and get the most out of my bike! Braaaaaaap
Carlos Rodriguez
2022-10-04
I've had several coaching sessions with Lee. Working with Lee, I've been able to fine tune a range of skills from "the basics" to advanced techniques. Lee is a gifted person with life experiences and deep knowledge about the human body and the best ways to teach people how to become better riders. Lee helps his students accomplish a series of goals whether they are anchored by mental blocks or physical techniques. Don't take my testimony for it, go on and find your next best version of you on a bike and book a session with Lee.
Aloha Detailing Colorado Mobile Detailing Services
2022-10-04
Hands down the most experienced, Technical, and logical approach to learning MTB skills! 🤙🏾Lee's brain is so deeply wrapped into every aspect of biking!
John Kavanaugh
2022-10-04
Lee is a ninja on the bike, and he communicates beautifully. You won't find a better mountain bike coach. He will improve your riding. More confidence, more fun, safer riding. This is a great investment!
The BEST upgrade for your bike is a better rider!! Lee and Kevin are amazing and will have you riding safer and with tons more confidence!! I work with them early ever season and practice my new skills all year. Don't wast your money on fancy parts upgrades instead invest in your SKILLS!!
Join us!
Get immediate, full access to the web's only complete and sensible system for improving your riding and more. 
Easy-to-learn riding skills for all riders – beginner to pro

Logical bike choice, fit, and setup

Practical ways to improve your fitness on and off the bike

Universally healthy movement and postural skills

Direct access to top professional coaches

Mental and emotional skills that dramatically improve your riding and life
Put simply, the better you are as a person the better you are as a rider. And vice versa. That's the whole point. To help you live and ride better. 
Save 13% with Annual Subscription
Who is Lee McCormack?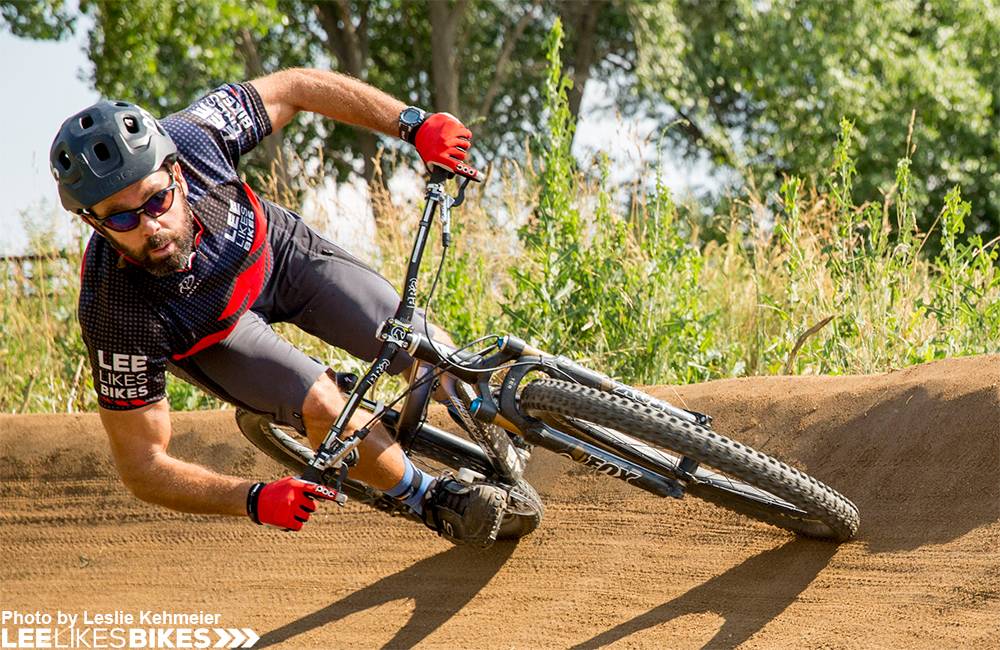 A national downhill mountain bike champion and co-winner of a Pulitzer prize, Lee McCormack is a true polymath nerd athlete. He is an award-winning journalist and infographics artist, software designer, champion mountain bike racer, mountain bike skills instructor, inventor, entrepreneur, author, teacher, corporate speaker and spiritual leader. He invented and patented the RipRow integrative training tool and is revolutionizing the ways people look at mountain bikes, mountain biking and life.
Lee studied exercise physiology, journalism and creative writing at Humboldt State University in Arcata, CA.
1,000,000s of video views on YouTube, Facebook, Instagram and Outside TV. Co-creator of the "Joy of Bike" YouTube show, which itself got millions of views.
11,000+ individuals taught and coached
3,000 articles in major cycling and fitness magazines and websites, including Bicycling, Outside, Mountain Bike Action, REI and his own site www.leelikesbikes.com
1,500 youth mountain bike coaches trained in the United States; thousands more trained worldwide via the book Teaching Mountain Bike Skills.
11 books published so far. These include Human Kinetics' three editions of Mastering Mountain Bike Skills, available in a dozen languages, which is the publisher's top selling trade book.
8th place at the Masters World Downhill Mountain Bike championships
4 companies founded
4 careers so far
3rd place at the world pump track championships at the USA Cycling nationals at Granby Ranch, CO
2nd place at a Grand National Rodeo bull riding competition
1 U.S. National Downhill Mountain Biking championship
1 Pulitzer Prize
1 patent for RipRow
1 purposefully joyful life
Questions? Email [email protected].
Training volunteer youth coaches:
Proudly rocking the stars and stripes at the downhill world champioships: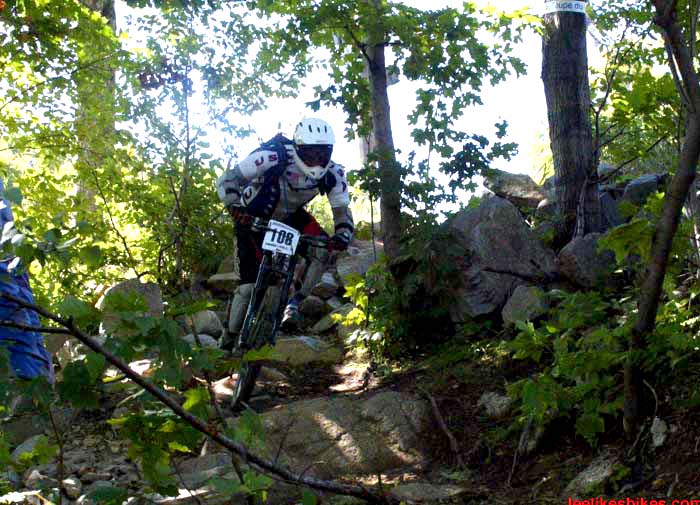 Performing some beat poetry: